---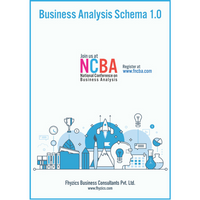 Business Analysis Schema (BAS) v1.0 is the product of Fhyzics Institute of Business Analysis and Research [FIBAAR] - a unit of Fhyzics Business Consultants Private Limited.
BAS v1.0 establishes the world's first comprehensive business analysis framework composed of nine elements such as domain, processes, techniques, competencies, business analysis activities, approaches, standards, tools and deliverables.
BAS v1.0 is a valuable tool for both business analysis practitioners and aspirants. Those who would like to master the framework can undergo the programs (classroom or online) conducted by Fhyzics across India and can attain the FPBA and APBA credentials.
To know more about Foundation Program in Business Analysis (FPBA) and, Advanced Program in Business Analysis (APBA) certifications from FIBAAR, please visit our website at www.fibaar.org.
---
Keywords: Business Analyst Roles and Responsibilities, How to Become a Business Analyst, Business Analyst Qualifications, Junior Business Analyst, Entry Level Business Analyst, What is the Role of Business Analyst, Business Analyst Certification for Beginners, Graduate Business Analyst, Becoming a Business Analyst, Strategic Business Analysis, Strategic Business Analysis, business analyst, business analysis techniques, technical business analyst, technical business analyst, business analyst books, business analysis books, mastering business analysis, business analyst training and placement