---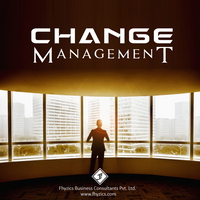 Change management is the discipline that guides how we put together, equip and help people to successfully adopt a change in order to force organizational fulfillment and outcomes.
Three levels of change management
Individual change management
Organizational/Initiative Change Management
Enterprise Change Management Capability.
Program Date, Venue, and Structure:
Date: 
Venue: Hablis Hotel, 19 GST Road, Guindy, Chennai 600 032, India.
Structure:
09:00 AM to 09:30 AM      Registration
09:30 AM to 10:00 AM      Speaker-1
10:00 AM to 12:15 PM      Speaker-2
12:15 PM to 03:15 PM      Speaker-3
03:15 PM to 05:30 PM      Speaker-4
05:30 PM to 06:00 PM      Networking

11:00 AM to 11:15 AM      Morning Break
01:00 PM to 02:00 PM      Lunch Break
04:00 PM to 04:15 PM      Evening Break
Program Content:
Techniques used for preparing for change.
Review the reactions of change.
Becoming an agent for change
By the end of the session, the participant will be able to
Understand the role of change in organizational success. 
Develop the skills that are needed to support innovation and improvement. 
Develop the planning skills required to introduce and implement positive change.
Use advisory processes to reduce the barriers. 
Evaluate problems associated with change. 
Manage the stress associated with the change.
Implement best practices for driving culture shifts.
Monitor the outcomes of the change.
---
Keywords: Change Management, Change Management Strategy, Change Management Principles, Change Management Theory, Change Management Methodology, Change Management Steps, Change Management Program, Change Management Process Flow, Change Management Best Practices, Change Management Techniques, Change Management Process Steps, Change Management Procedure, Change Management Practices, Change Management Methods, Change Management Tools and Techniques, Change Management Issues, Concept of Change Management, Change Management Policy, Change Management Objectives, Change Management Team, Organizational Change Management Process, Change Management Basics, Organisational Change Management Process